Hydrogen and CCS
building blocks for the future
We want to drive the energy transition and meet global climate targets. To reach our goals we need hydrogen, a climate-friendly energy source. And we need carbon capture and storage (CCS) to help solve the challenge of industrial emissions.
CCS is not a new technology. Since 2008 the CO2 storage program in the Norwegian Snøhvit field is running.
Share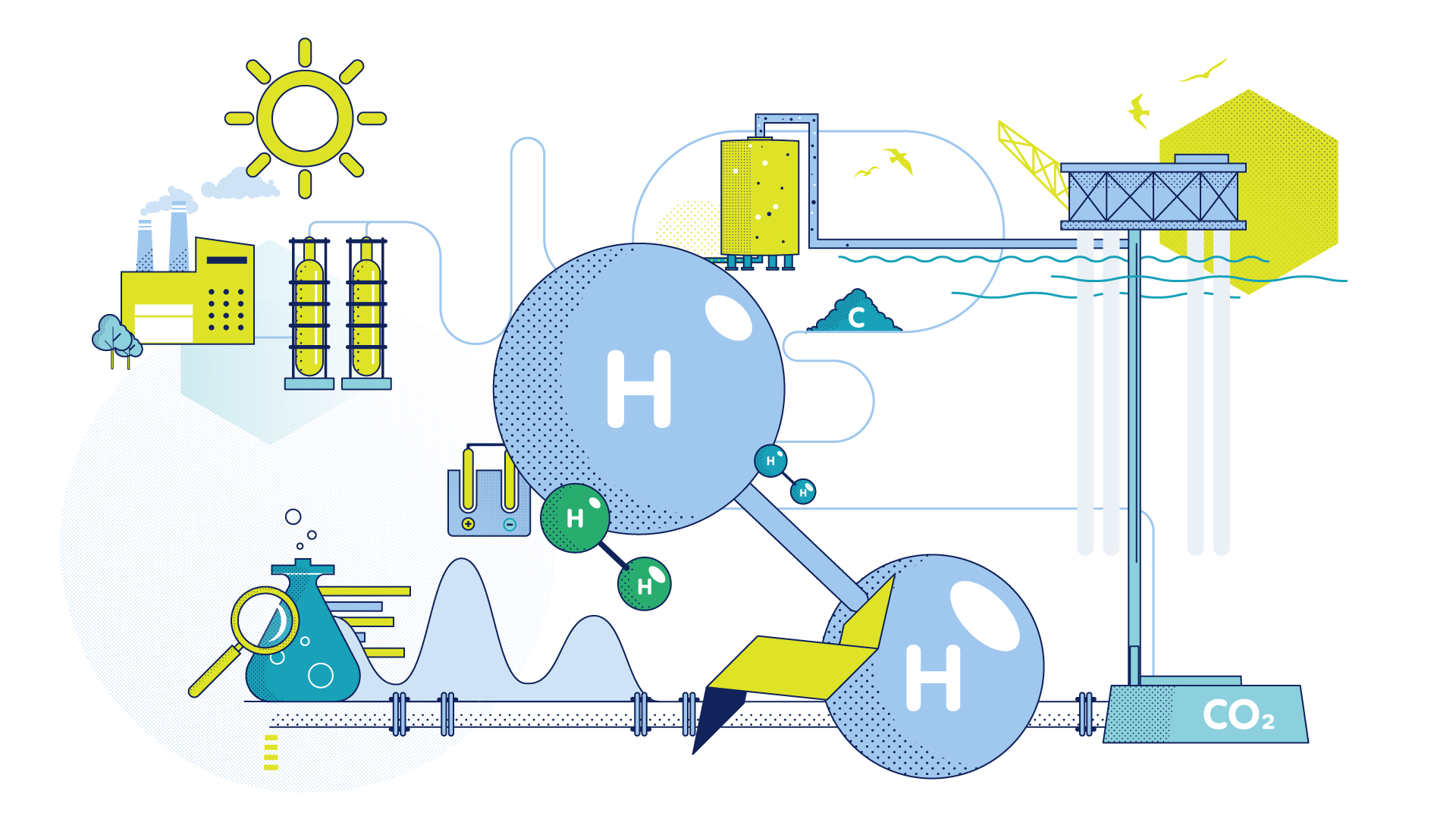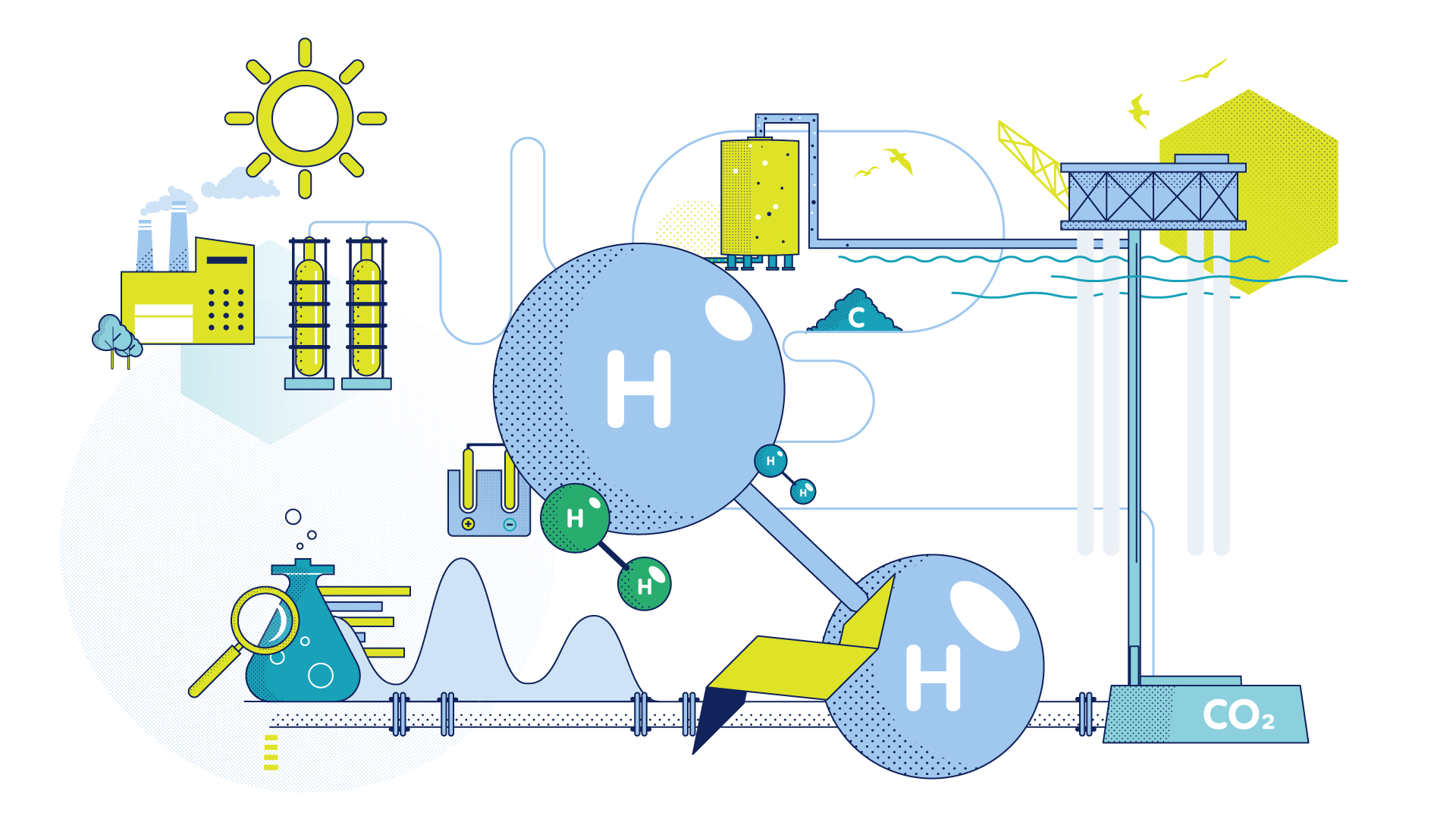 Climate change is changing everything. We face major challenges. We have to protect the climate while maintaining industrial competitiveness – a tightrope act. Wintershall Dea has set binding goals with its Energy Transition Pathway. Hydrogen and CCS are two technologies that can help achieve those goals. The two solutions could cut emissions in Europe by up to 70 per cent. Hydrogen can replace more environmentally harmful fuels, for example in heavy goods transport, industry or the heating market. CCS can help tackle difficult-to-avoid industrial emissions, and enables us to decarbonise hydrogen produced from natural gas.
gigatonnes is the estimated CO2 storage capacity in the European North Sea.
is the estimated annual German hydrogen demand by 2030.
of Europe's emissions could be eliminated using CCS and hydrogen.
Cleaner gas – with hydrogen
Hydrogen is considered the climate-friendly energy source of the future. Because it burns practically emission-free and can be used to store and transport energy. This means it can be indispensable as a fuel for heavy goods transport or the heating market. Climate-friendly hydrogen can be produced in various ways: with renewable electricity by means of electrolysis, or from natural gas by means of steam reforming or methane pyrolysis. Hydrogen produced from natural gas is affordable and can soon be available in large quantities, utilising existing infrastructure and natural gas production. The use of CCS ensures that hydrogen production is climate-friendly. We need hydrogen if we want to achieve our climate targets. To that end, we need natural gas, now and in the future. Wintershall Dea has the experience, infrastructure and means to supply hydrogen from natural gas.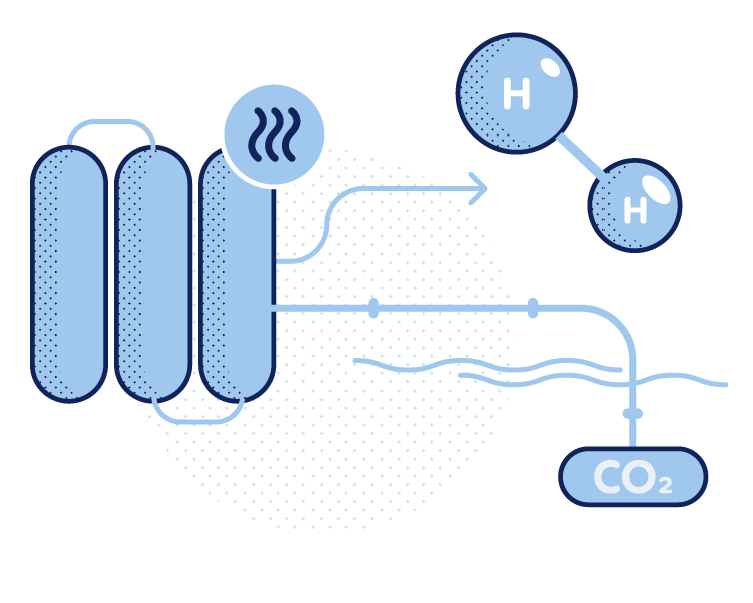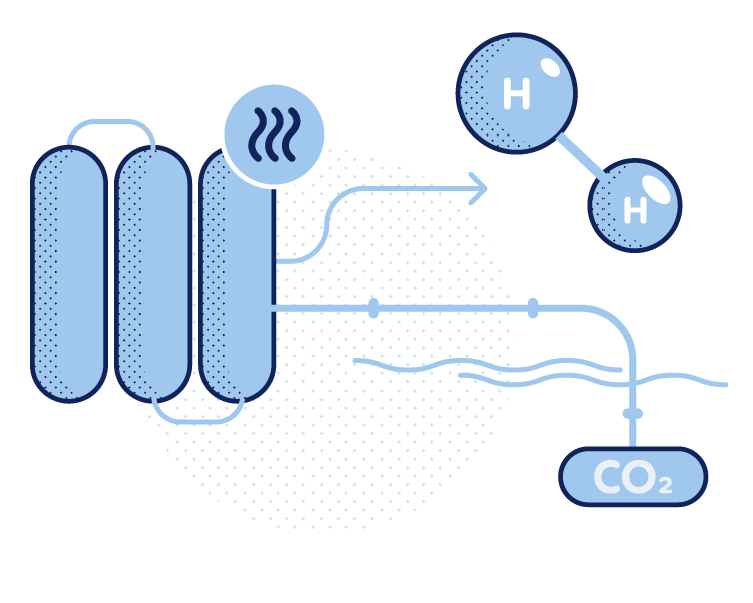 Blue hydrogen
In steam reforming, natural gas is converted into hydrogen and CO2. The CO2 can be stored safely underground by means of CCS.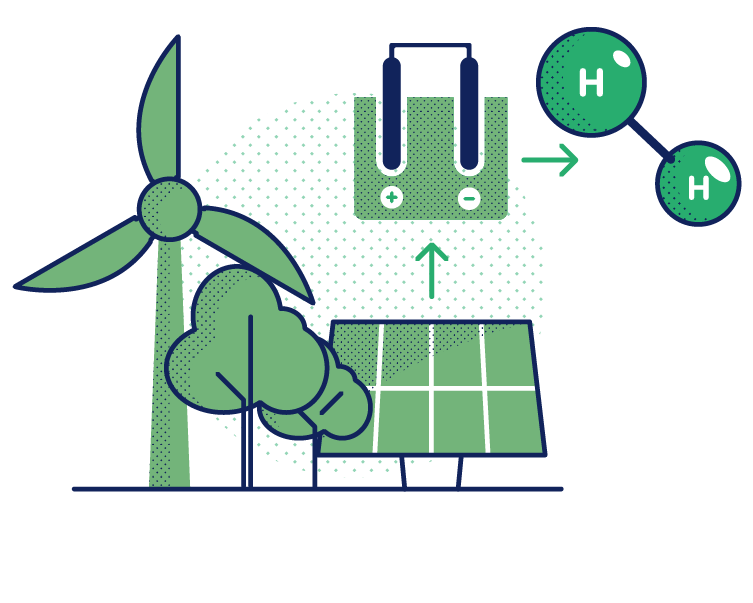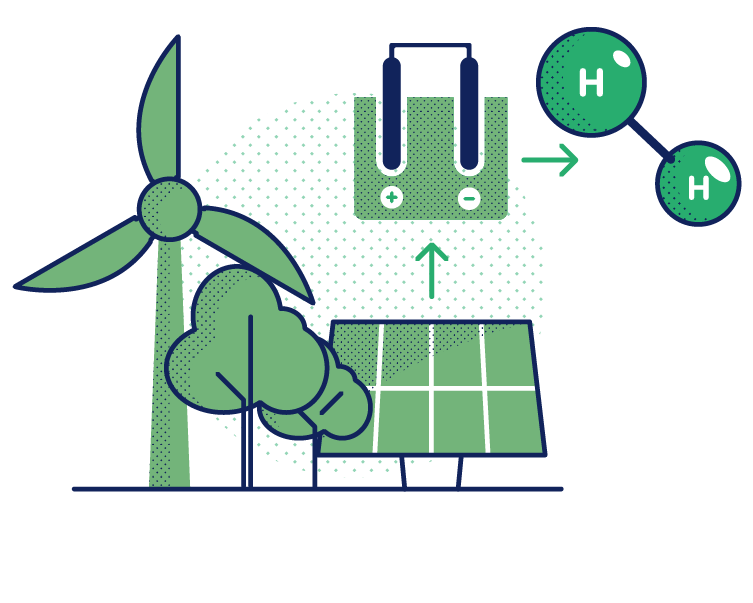 Green hydrogen
Using electricity from renewables, water is split via electrolysis into hydrogen and oxygen.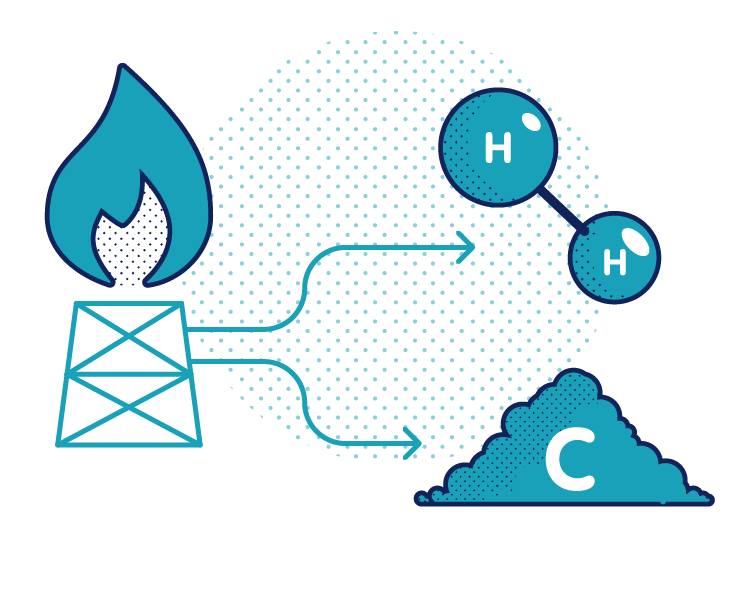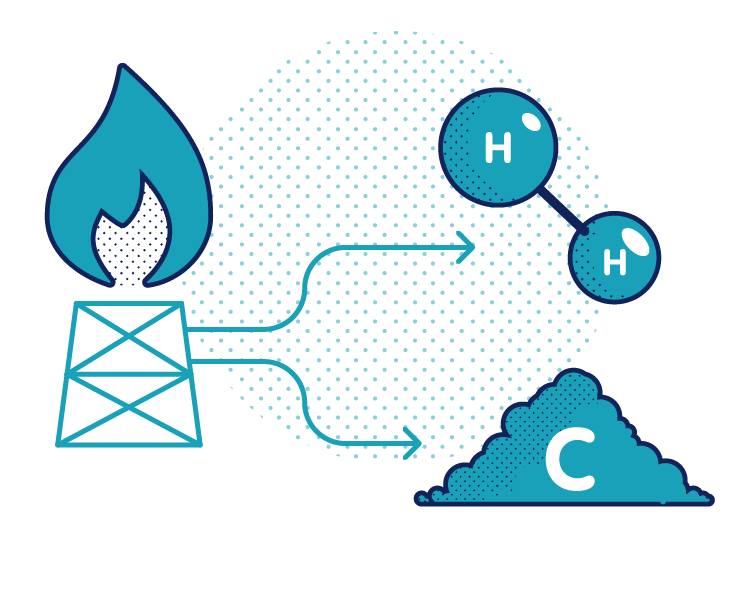 Turquoise hydrogen
In methane pyrolysis, the methane contained in natural gas is split into hydrogen and solid carbon. The carbon can be further processed for industrial purposes – in steel production, for example.
Pioneering turquoise hydrogen
Wintershall Dea has launched a strategic partnership with VNG AG. Together, we aim to drive production of hydrogen from natural gas.
The first step is a joint investment in the hydrogen start-up HiiROC. Together, we are developing a pilot methane pyrolysis plant. In this process, natural gas is converted into clean hydrogen and solid carbon. The plant consists of small flexible units with a modular design. It can be scaled to suit the needs of local or industrial production and installed on site where it's needed.
The pilot plant is scheduled to go into operation in 2023. It will be the first of its kind for producing turquoise hydrogen in Germany. We will then be able to produce a planned volume of around 400 kilogrammes of hydrogen a day.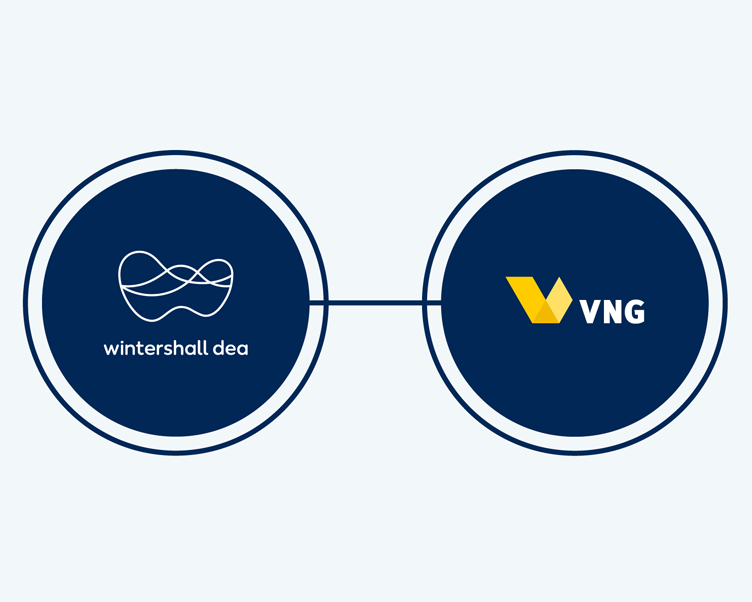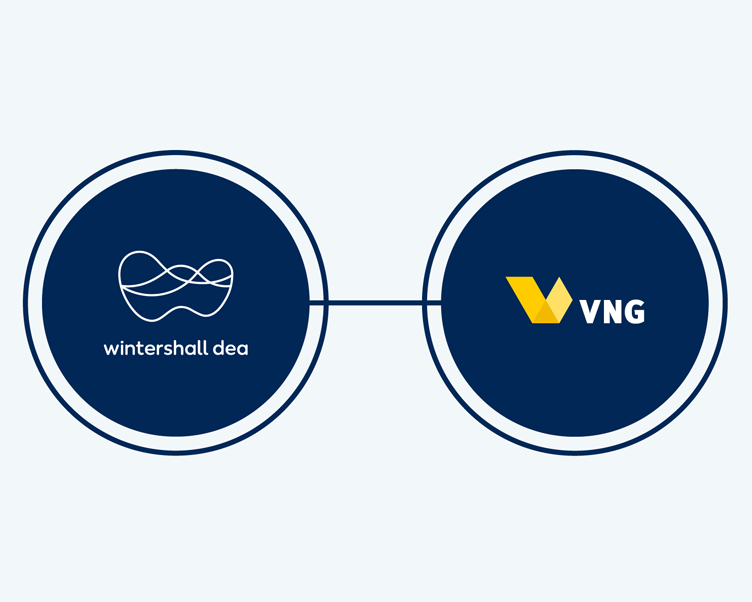 Large-scale methane pyrolysis
We have teamed up with the Karlsruhe Institute of Technology to explore how we can produce hydrogen from natural gas as climate-friendly as possible. To that end, we are conducting research into how methane pyrolysis can best be carried out in a technically efficient manner. In a special reactor filled with liquid metal, methane is split into its molecular components of hydrogen and solid carbon. The solid carbon can be stored safely and used for many industrial applications. The hydrogen can be used as a clean source of energy. The research project is set to run for three years. Our aim is to lay the foundation for producing turquoise hydrogen on an industrial scale.
Cleaner industry thanks to CCS
Carbon capture and storage (CCS) involves the permanent and safe storage of CO2 in geological formations deep underground, such as in depleted gas and oil reservoirs, or in layers of rock containing salt water. We can use CCS to reliably decarbonise sectors where CO2 emissions are difficult or impossible to avoid, such as the steel, cement or chemical industries. Geological storage of CO2 is practised worldwide in small pilot projects, but also on a large scale, such as in Norway. CCS is therefore available today, and the technology is safe, reliable and affordable. As well as tackling industrial emissions, CCS can also achieve negative emissions through direct capture of carbon from the air. And by using CCS, we can produce large and affordable quantities of climate-friendly hydrogen from natural gas. Wintershall Dea has the expertise, technical means and potential storage sites, such as depleted oil and gas fields, to drive CCS forward.
CCS in Denmark
From 2025, offshore CCS could be possible in the Danish North Sea via Project Greensand. We are a leading member of the project consortium, along with INEOS Energy, Maersk Drilling and other partners. Together, we intend to establish the infrastructure and capacity for CCS. The project could make an important contribution: up to 8 million tonnes of CO2 a year could be stored here in the future – a quarter of Denmark's entire annual emissions. CO2 is planned to be injected for the first time in a pilot project at the Nini West reservoir by the end of 2022, with the emissions involved coming from the Danish cement-producing company Aalborg Portland. If the pilot phase is successful, full-scale CO2 storage could commence from 2025, subject to the right regulatory and financial framework. Backed by our many years of experience with the conditions at the Nini West reservoir, we are pressing ahead with this decarbonisation project together with our partners.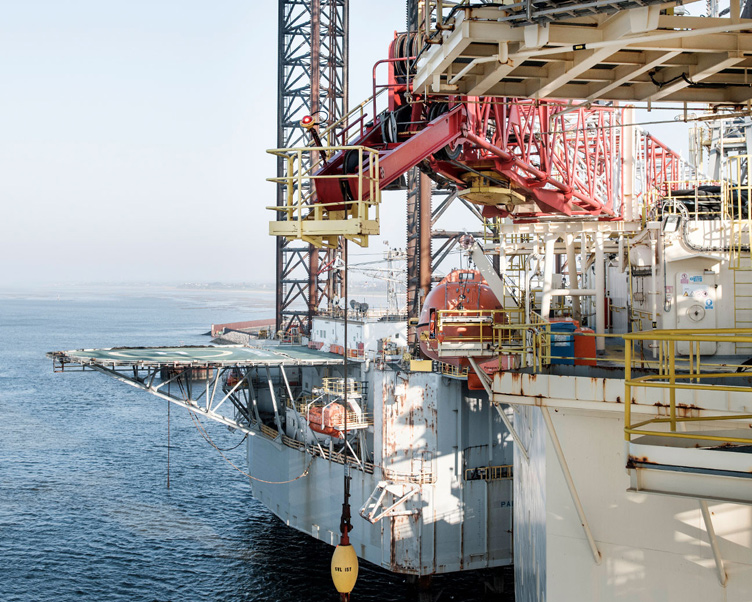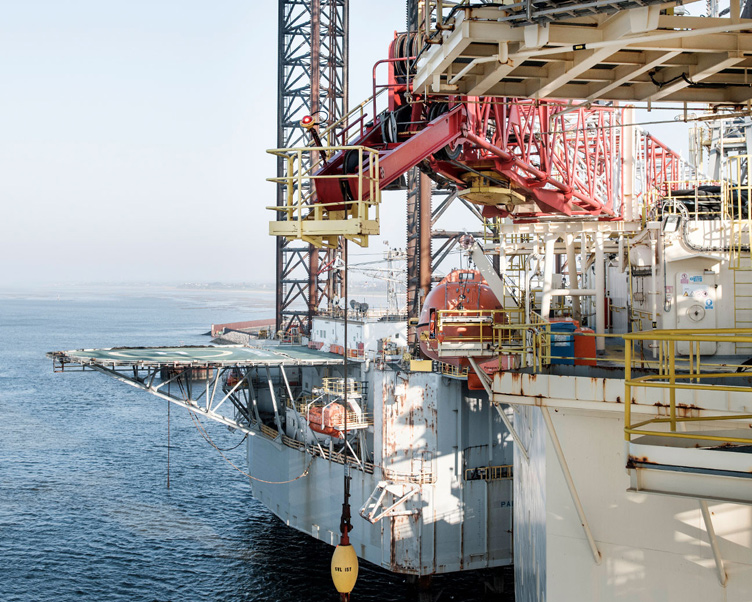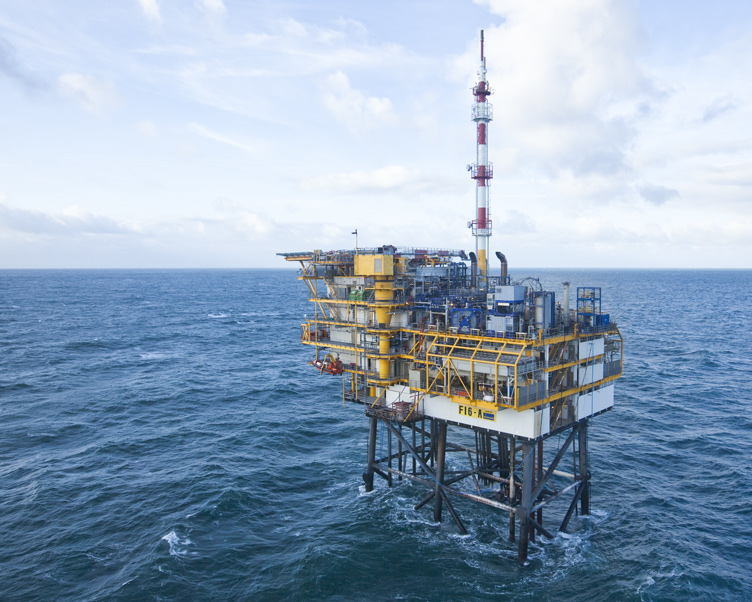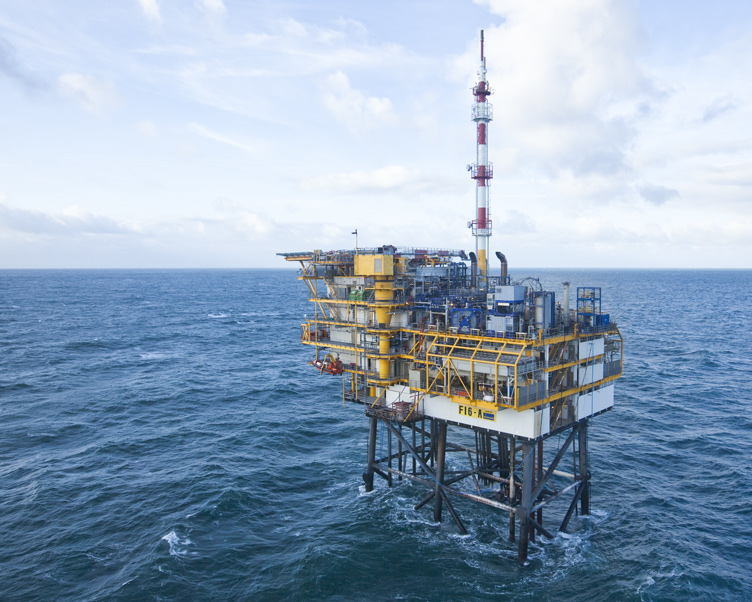 Credit
Wintershall Dea/Dominik Obertreis
CO2 transport using natural gas pipelines
We need extensive infrastructure for large-scale offshore CCS. We can significantly increase cost-effectiveness if we can repurpose existing natural gas infrastructure to transport CO2. We have teamed up with OTH Regensburg University of Applied Sciences to explore whether we can use existing gas pipelines in the Southern North Sea to transport CO2. Initial research results indicate that this could be a safe and efficient option. There are approximately 4,800 km of pipelines on the bed of the Southern North Sea. Wintershall Noordzee (WINZ) operates 1,200 km and has numerous virtually depleted reservoirs that are potentially suitable for storing CO2. With our experience and know-how, we can help ensure that depleted reservoirs and our existing infrastructure can be used to store CO2 emissions safely and hence drive decarbonisation of industry.
The key to cleaner industry
CCS, the safe geological storage of CO2 underground, is a technology that can make a major contribution to decarbonising industry. More and more experts agree that we can achieve our global climate targets if we use CCS. After all, there are emissions – especially in important industries such as steel-making, cement or chemicals as well as in agriculture – that are difficult or impossible to avoid. For example, around 10 per cent of Germany's annual greenhouse gas emissions cannot be reduced through avoidance measures. Wintershall Dea is developing CCS further, in order to make industry cleaner.
Video
Klaus Langemann, Senior Vice President Carbon Management and Hydrogen, on Wintershall Dea's plans for hydrogen and CCS and the importance of innovation and technology for a net zero future.
Video
Klaus Langemann, Senior Vice President Carbon Management and Hydrogen, on Wintershall Dea's plans for hydrogen and CCS and the importance of innovation and technology for a net zero future.